Office of the National Director, NESLI
Global Schools Leadership Alliance
111 SW 5th Avenue, Suite 3150
Portland, Oregon 97204
Email: info@nesli.education
Phone: 844 652 5944
Web: www.nesli.education
​
Office of the National Director, NESLI
Global Schools Leadership Alliance
111 SW 5th Avenue, Suite 3150
Portland, Oregon 97204
Email: info@nesli.education
Phone: 844 652 5944
Web: www.nesli.education
​
The Women Superintendents Leadership Program
Participant experience
The Women Superintendents Leadership Program is an integrated development program that focuses on the critical dimensions of effective senior leadership within the schooling context.
The program employs an integrated learning methodology combining expert tuition, peer knowledge sharing, practical workplace application, and guided personal thought and reflection. The program is delivered part-time over six months to ensure participants have time to fully integrate their learning into their everyday practice.
Mindful and authentic leadership
The first theme introduces participants to a values-based operational framework as they explore the relationship between personal authenticity and effective performance. Participants take a deep dive into the traits and behaviours that define exceptional leaders in today's society; and consider how to synthesize their personal aims and objectives with that of their role in order to optimize their impact and stay focused on their goals.
CONFLICT AND FEEDBACK –THE DNA OF PERFORMANCE
When handled effectively, conflict leads to a better awareness of other people's feelings and can be highly productive. The second theme approaches conflict and feedback as proactive performance management tools and fundamental ingredients in effective communication.
Mastering influencing and negotiation
Our ability to effectively influence and negotiate with others is fundamental to success in all areas of life. As leaders we use these skills every day to settle differences and achieve optimal outcomes for our school. This theme will explore the psychology involved in influencing others and negotiating for a particular outcome.
LEADING INNOVATION AND CHANGE
This theme focuses on the leadership qualities involved in driving innovation and change. Using a case study approach, participants explore the way in which innovation and change are inextricably intertwined. Participants then examine leadership challenges during times of crisis, gaining an understanding of the way in which they can help build a flexible, agile organization.
Participants undertake a capability reflection to evaluate their ability and confidence in key areas. Results from this simple assessment support each participant to develop a personal action plan to help them achieve their developmental objectives.
Throughout the program, self-directed learning content is accessible via our state of the art online learning management system (LMS) allowing participants to engage with it at any time from any device. Content includes high quality video tutorials, 'best practice' leadership literature, experiential activities and reflective tasks. Throughout the program, participants are also free to connect with each other 24/7 via the LMS and discuss 'top of mind' issues.
Throughout the program participants engage in seven live webinar sessions, focused on rich discussion and debate, relevant to each topic area. Accessible from any mobile or desktop device, and conducted outside of regular classroom hours, these sessions create a regular connection point enabling collaborative exploration of key ideas and concepts.
Creating my pathway
As our everyday environments increase in complexity it is easy to become distracted by the immediate at the expense of what's truly important. The final theme centers on developing a coherent and dynamic 'game plan' for future career and life fulfilment. Within the context and expectations of their own workplace, participants consider the steps required to fully realise their career potential.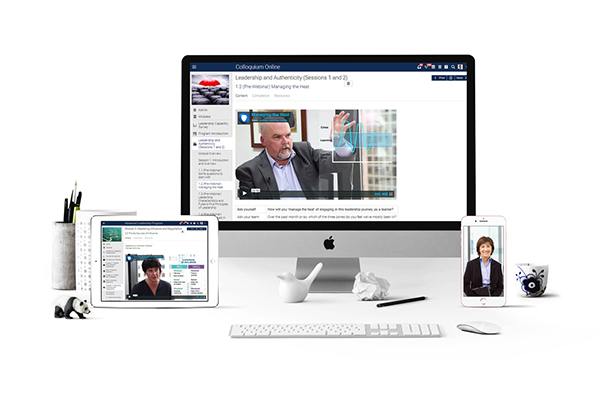 Throughout the program, participants take part in a number of adaptive leadership challenges. By contextualising major themes within real world situations, the challenges reinforce key learning and equip participants to operationalize new approaches.
During the program participants enter into a peer coaching partnership with a co-participant. The peer coaching process is an important element within the program enabling participants to hone their skills as role models and coaches within their school.
Capability Assessment
Peer Coaching Sessions
Interactive Content Sessions
Adaptive Leadership Challenges
Self-paced Learning Modules
Standard enrollment Fee: $2,500
Online session 3:
Conflict and Feedback​
Online session 1:
Program Orientation​
Online session 2:
Mindful and Authentic Leadership​
Online session 4:
Influencing and Negotiation​
Online session 5:
Leading Innovation and Change
Online session 6:
Creating my Pathway
Adaptive Leadership Challenge 1​
Adaptive Leadership Challenge 2
Adaptive Leadership Challenge 3
Adaptive Leadership Challenge 4
Online session 7:
Reconnect
Adaptive Leadership Challenge 5
The Women Superintendents Leadership Program is a six month professional development program for female school leaders.
Focusing on the interpersonal and behavioural dynamics associated with senior leadership, the program combines rich, multi-media learning resources with peer level discussion and collaboration.
Participants engage in a deep exploration of their own strengths, weaknesses and opportunities as they relate to leadership within the context of their school. Working collaboratively throughout the program, participants co-construct their learning journey through sharing their insights and experiences. The program equips participants with the skills and confidence to lead more effectively and accelerate their own career progression. Additionally, the program assists female leaders to create powerful, life-long professional networks. The program is designed to meet the developmental needs of senior leaders. Accordingly, participants are expected to hold or be actively working towards a senior leadership role.
Develop the capabilities to lead successfully
in the contemporary school environment.
Leverage existing leadership capabilities and extendand engage in a process of continuous self-development.
Apply the learning gained from case-based scenarios and adaptive leadership principles to broader contexts.
Provide opportunities to work with peers to test assumptions, explore strategies and refine approaches to common issues.
Facilitate growth in others.
Support the application of learning to school practices and context.
Embrace a transformational 'leader as learner' mindset.
The National Excellence in School Leadership Institute (NESLI) is launching the Women Superintendents Leadership Program (WSLP) as the premier professional learning program to support the leadership aspirations of women in all American school districts.
This program promotes the opportunity for women in leadership positions to come together to network, be inspired and empowered in leadership growth and development. The Women Superintendents Leadership Program represents a unique opportunity for executive female school leaders to extend their leadership capacity and create powerful, lasting connections with dynamic, like-minded women in school districts across the country. NESLI is delighted to provide this important initiative which in addition to enabling real outcomes for individual leaders, represents a meaningful contribution to the realization of gender equality in relation to formal leadership practice within the education sector.​
Dr. MaryAnn P. Jobe
NESLI
Director, Leadership Initiatives
Senior leadership is the process of strategically influencing and guiding an organization towards meeting and ultimately exceeding its core objectives.
At a school level, this translates into achieving the best possible outcomes for students through providing ongoing direction for staff, pioneering innovation and change in learning and teaching practice and establishing a safe, supportive and enriching environment.
The learning intentions for this program are:
Develop the capabilities to lead successfully in the contemporary workplace environment.
Leverage existing leadership capabilities and extend and engage in a process of continuous self-development.
Apply the learning gained from case-based scenarios and adaptive leadership principles to broader contexts.
Provide opportunities to work with peers to test assumptions, explore strategies and refine approaches to common issues.
Embrace a transformational 'leader as learner' mindset.
contact us
For more information
If you have any questions or would like to speak to someone in more detail about The Women Superintendents Leadership Program please fill in the form opposite and we'll be in touch.​
Visit our Australian website